Today I read the article, What If We Radically Reimagined the New School Year? by fellow Chicago educator Ashley McCall, and thought: It's wild that the only solutions that make total sense to me are considered radical. It shouldn't be a radical shift to do any of these things. We should be caring for individuals and communities. We should be responding to crisis with recovery and healing. We should be listening to the people in our care, trusting them, honoring their agency. We should be integrating learning well with living well. We should be taking every opportunity to nourish and free our imaginations.
THAT SHIT SHOULD BE NORMAL.
Thoughts like this have been turning in my mind and churning in my stomach for months now. In March, I was able to blurt out this idea, Take Care is the Curriculum, and since then most of my ruminations have been centered on it, my work permeated by it, my conversations infiltrated by it, my retweets hashtagged by it. Take care! A throw-away phrase, perhaps, at other times but in these times it feels like a mantra, a prayer, an urgent plea, a key. And then, Curriculum! Not a curriculum of textbooks and exams enacted in schooling structures. Curriculum as in the what, why, and how we need to learn. The worthy experiences we need and the meanings we need to co-construct from them. The who? All of us. Juntos. And the when of course is now.
You only need mere moments with any legit news feed to know how very very very much so many many many people need to learn. And unlearn. Everywhere there are stories of greed, cruelty, violence, injustice. These bring on the churning. And then next to the deep disgust, frustration, rage that is roused I find there is a surging of great gratitude. Because next to the horror stories, there are also so many songs of strength and stamina and strategy and light and liberation and love.
I am so thankful for Ashley McCall and all the other people like her who have found the wherewithall (because this business of weathering pandemics, reckoning with centuries of injustice, and reimagining the world is emotional, exhausting work) to share their instincts, insights, and imaginations, and whose ideas comfort me, reveal connections, spur me on, help me see a path.
So this afternoon I took myself on a tour through the March-July works of these songwriters… educators, authors, artists, architects…people whose ideas I hope will shape our New Normal for schools and society in general. In this list, you will find both well-known voices and less known like my own. I also want to acknowledge there are so many more people whose work on this topic I simply have not yet encountered or whose work is not documented in a way I could include it–but it is there and it is happening. That is to say, this list is not about the individuals listed but about the expanding collective it represents–each piece is compelling but the collection reminds me of what we can realize; reminds me que estamos aquí juntos, que somos muchos, and that indeed sí se puede.
Please read, be well, and take care.
A Collection of Pandemic-Catalyzed Freedom Dreams:
Smooshed: Labor, Boundaries and Roles Under COVID-19 by Sherri Spelic, March 20, 2020
What if Quarantine Homeschooling is Better For Black Children? by Kelly Wickham Hurst, March 23, 2020
COVID-19: An Invitation to Pause, Reflect, and Embrace the Power of Community by Kelly Young, March 24, 2020
Take Care. That is the Curriculum. by Olivia Mulcahy, March 27, 2020
Defamiliarizing Our Way to a Better New Normal. By Olivia Mulcahy, April 3, 2020
Social-Emotional Support in the New World of Distance Learning by Alex Shevrin Venet, April 7, 2020
A proposal for what post-coronavirus schools should do by William Doyle and Pasi Sahlberg, April 8, 2020
REECHing, Not Distance Teaching by Lisa Kelly, April 9, 2020
Prepare for the Ultimate Gaslighting by Julio Vincent Gambuto, April 10, 2020
A School Principal Ponders Pandemic Pedagogy and a Coronavirus Project Plan by Joe Truss, April 2020
Freedom Dreaming A New Music Education in times of #Corona Virus and beyond. by Martin Urbach, April 26, 2020
Teachers, We Cannot Go Back to the Way Things Were by Bettina Love, April 29, 2020
#31DaysIBPOC: We Begin, Again by Kim Parker, May 1, 2020
Recommitting to Shared Liberation by Liza Talusan, May 3, 2020
It's 2020 and I Was Supposed to Living Like The Jetsons. Instead I Am Cleaning My Own Closet. by Val Brown, May 7, 2020
I was born in the year of the Spanish Flu — and I'm not ready to leave in the year of COVID-19 by Timuel D. Black, May 11, 2020
What a School Means: A Conversation with Eve L. Ewing by Haymarket Books (Featuring Eve Ewing and Jen Johnson), May 14, 2020
Becoming the Architects of School: Building for Liberation by Sonja Cherry-Paul, May 19, 2020
Reopening Schools While Coronavirus Is Still on the Loose Is Ass-Backward by Tanesha Peeples, May 22, 2020
In the Wake of the Coronavirus, We Must Design and Build the Schools We Need—Not Simply Reopen Schools As They Were by Khalilah M. Harris, May 26, 2020
Education After COVID-19 Cannot Be Reimagined Without A Racial Justice Plan by Colin Seale, May 27, 2020
When I say #TakeCareIsTheCurriculum Here's What I Mean–A Thread

(see below)

by Olivia Mulcahy, May 29, 2020
A Call to Action. by LaMar Timmons-Long and Julia Torres, May 30, 2020
Connect the Dots by Tricia Ebarvia, May 31, 2020
Repurposing Our Pedagogies–Abolitionist Teaching in a Global Pandemic. by Education For Liberation Network (featuring Stephanie Cariaga, Bettina Love, Sagnicthe Salazar, Carla Shalaby, Marylin Zuniga), June 2, 2020
Thoughts on a Way Forward: An Interview with Cornelius Minor by Lanny Ball, June 3, 2020
Lessons from crisis: trauma-responsive teaching tools for the work ahead by Arlène E. Casimir, June 8, 2020
The new normal in education – Opinion by Anita Lie, June 20, 2020
Abolitionist Teaching and the Future of Our Schools by Haymarket Books (featuring Bettina Love, Gholdy Muhammad, Dena Simmons and Brian Jones), June 23, 2020
How Would You Reimagine Learning? 5 Visions for Our Post-COVID Future by Simone Stolzoff, June 30, 2020
Teaching Under Covid: NY School-Reopening Guidance Highlights the Need for a Radical, Uniform National Response to Covid-19: We need a radical plan for the public, even though care for all shouldn't be such a radical notion. by Lisa Arrastia, July 19, 2020
Is the pandemic a teachable moment? by Alex Shevrin Venet, July 21, 2020
Teaching Isn't About Managing Behavior: It's about reaching students where they really are. by Christopher Emdin, July 24, 2020
No More "Distance Learning": Create Collective Learning Instead by Aaminah Norris, July 25, 2020
What If We Radically Reimagined the New School Year? by Ashley McCall, July 30, 2020
When I Say #TakeCareIsTheCurriculum Here's What I Mean–A Thread
When I say, #TakeCareIsTheCurriculum, I am not talking about getting better at individualistic self-preservation. I am talking about the need for us to heal from and prevent harm & the need to learn to thrive in community.
When I say, #TakeCareIsTheCurriculum, I am not talking about "taking care of yourself" unless you are defining taking care of self as inextricably linked with taking care of others and of Earth. I am talking about #UbuntuInAction #InLakEch #gotongroyong #everydayisearthday
When I say, #TakeCareIsTheCurriculum I am not offering you a pretty chart to remember to pamper yourself. I'm offering you a pretty chart so you can reflect on how you are taking up the act of Care & how care for the body, mind, spirit, space, family and world are all connected.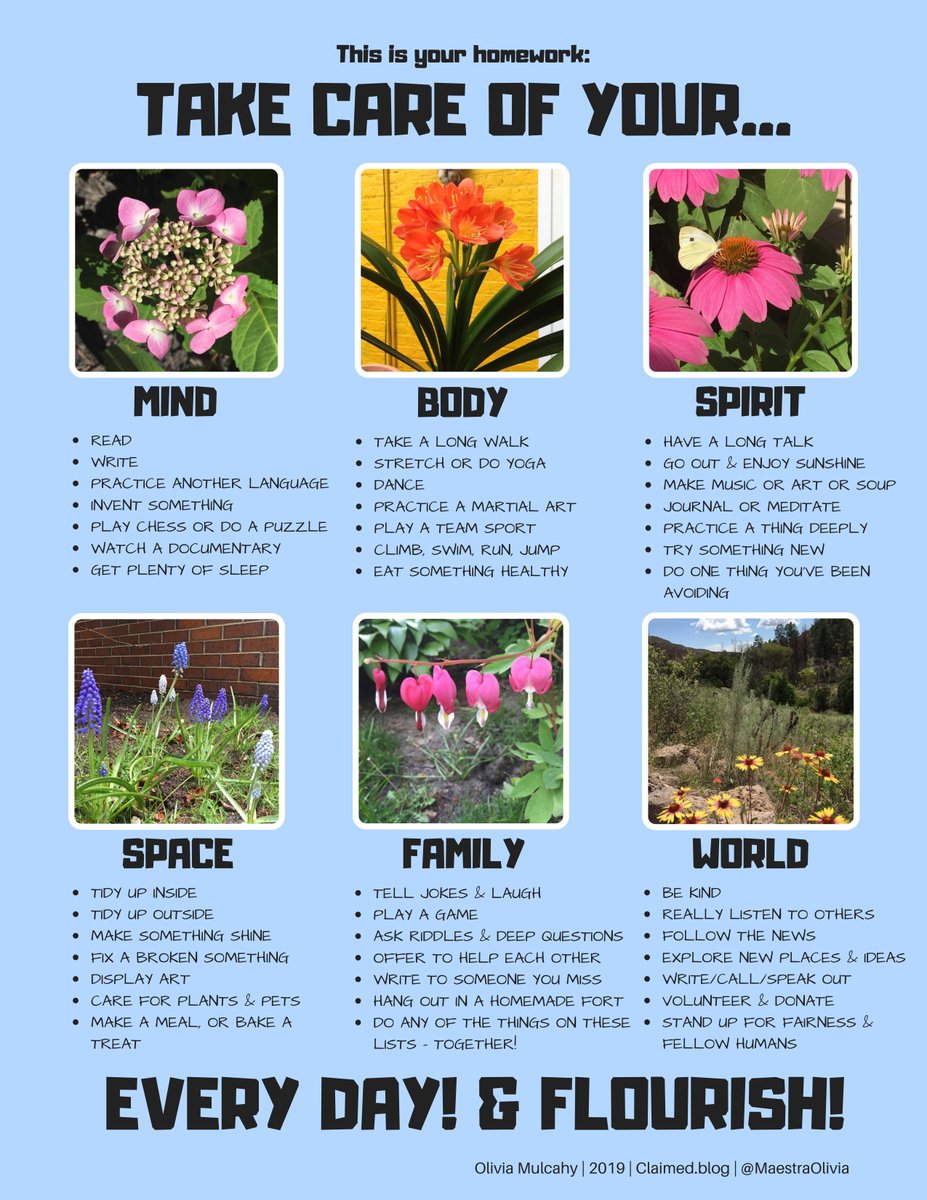 When I say, #TakeCareIsTheCurriculum, I am not talking about caring only for ppl who look or sound like you, but about solidarity with anyone who has been marginalized, toward all our liberation. #BlackLivesMatter #TransRightsAreHumanRights #DisabilityJustice #tuluchaesmilucha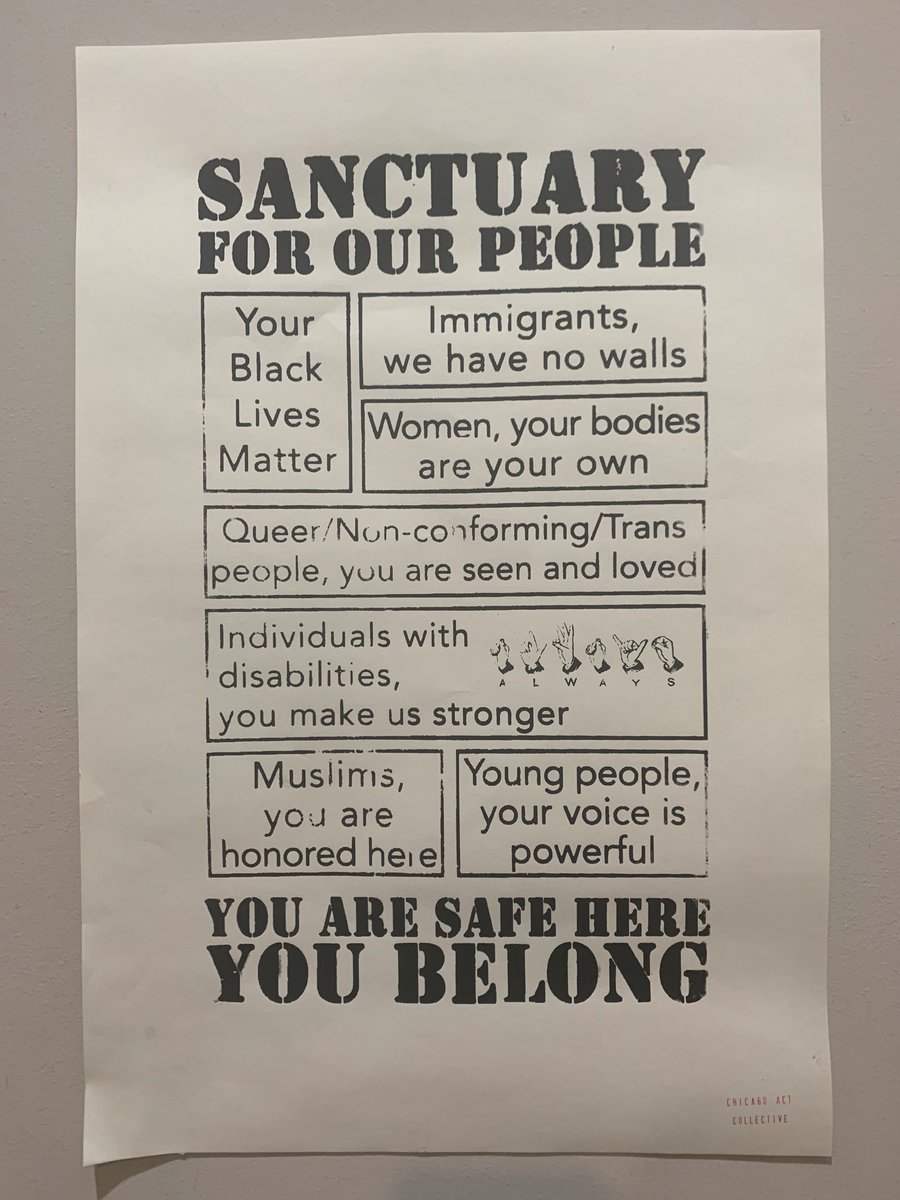 When I say, #TakeCareIsTheCurriculum, I am not talking about taking a class in "taking care." I'm talking about taking up Care as our code. I'm talking about centering our learning on ideas like Love, Respect, Non-Quitting Spirit, Responsibility & Courage. (credit to @TWSeido)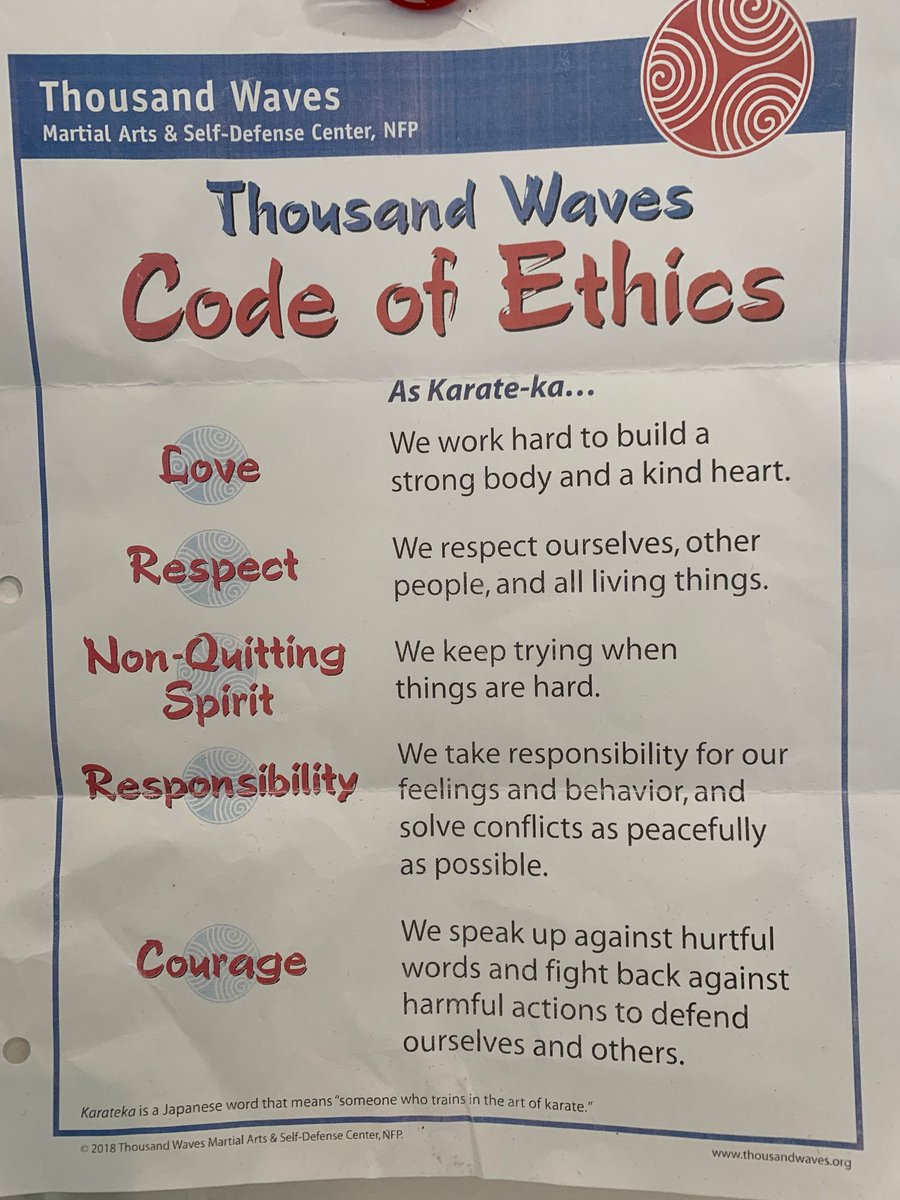 When I say, #TakeCareIsTheCurriculum, I am not talking about just a set of lessons for teachers to "deliver" to students. I'm talking about the learning (& UNLEARNING) we ALL need to do, with & from our students. Adults & youth. In formal school contexts & in the world at large.
When I say, #TakeCareIsTheCurriculum, I am not talking about adding extra "care" activities to math, reading, science, history lessons. I am talking about fundamentally reframing our categorization of "content" & looking at learning interdisciplinarily through the lens of Care.
When I say, #TakeCareIsTheCurriculum, I am not talking about passive niceness. I am talking about active, fierce, loving work. I am talking about the sweat and blood and spirit of laboring, building, sheltering, cultivating, nourishing, gathering, sustaining, celebrating.
When I say, #TakeCareIsTheCurriculum, I am not talking about just stepping up during this crisis. I am talking about recognizing the crisis we have been living since subjugation of others and plunder of the Earth became some people's fucked up formula for personal prosperity.
When I say, #TakeCareIsTheCurriculum, I am talking about making individual and collective wellbeing intrinsic to how we define and measure success. I am inviting us to take a long look at the purpose of living & learning, reject harmful practices and systems & rebuild with care.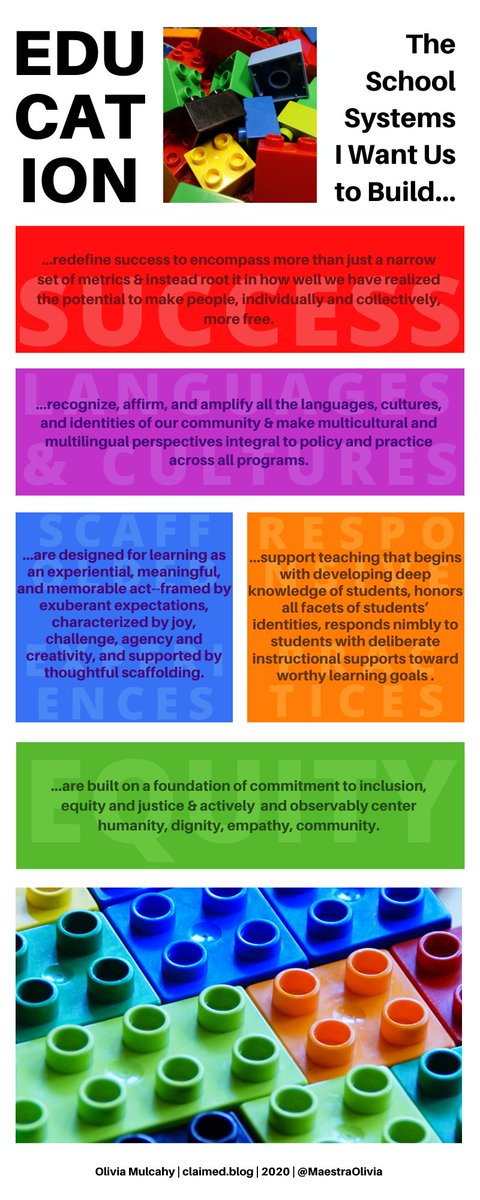 Originally tweeted by Olivia Mulcahy (@MaestraOlivia) on May 29, 2020.